Multiple Intelligences Newsletter, Vol 25, No 6
April 1, 2017
Greetings MI Fans,
How does it feel to be in the last lap of the school year? I know that this time of year is always busy: there are the things that should be happening in April and May as well as all of the things that you didn't get to and want to address before the summer hiatus. There simply isn't enough time in the school day, school week, or school year to accomplish all that we want. But there is always time to use MI because MI helps students learn. What could be more student-centered and what could respect the "whole child" more than recognizing how children learn and letting them use their strengths?
(As an aside, I am always amazed that just about everyone says that we need more time in schools but there is no groundswell of support for extending the school year. Oh well, that's a topic for another day!)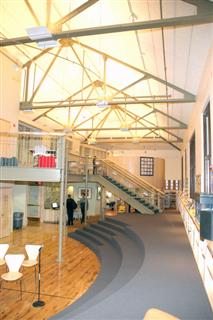 This issue features an article by Jessica Brod Millner, the MI Specialist at New City School in St. Louis, MO. Jessica's role is to further facilitate our students' use of MI in learning. I say "further" because New City is an MI school – has been since 1988 – and because we created the world's first MI library. The MI library (shown here) was designed by architect Kevin Kerwin to enable students to use all of their intelligences in learning. Jessica capitalizes on our history and space.
Don't misunderstand: Our library is still a linguistic treasure, featuring thousands of books and, Joe, our librarian, fosters a love of reading and works with students on research projects. Kids of all ages love it when he reads to them.
However, our MI library is designed to support all of the intelligences. It has a space for messy art, fish tanks, giant windows that overlook trees with birdhouses, logical-mathematical puzzles, a music area with headphones, manipulatives, and spaces designed for interpersonal work and intrapersonal reflection. The library is also the site for our school-wide board game tournaments in boggle, checkers, chess, and Othello (an effort that we began years ago so that kids would learn that you can have fun without batteries!). We use the library as a wonderful setting for faculty meetings, professional development workshops, parent meetings, and student presentations. We even host "Saturday Story Time" once each month and invite neighbors with small children to join us for a linguistic and musical feast.
Beyond this, Jessica Millner is our MI Specialist. A former classroom teacher at New City, Jessica works three days per week and students see her as as part of their specialist rotation (along with art, performing arts, PE/B-K, Spanish, library, science, and so on). Jessica creates centers and activities that use MI to help students learn. As you might imagine, students love going to the MI library for an extra jolt of MI in learning!
Jessica also chairs our Social Action Committee, composed of parents and children, a group that works to make St. Louis a better place. The Service projects that she helps to create are directly linked to the curriculum in each grade. Much of the social action activities take place outside of the school day- after school or on weekend. As you will see from the following article, she draws from her MI background and training when she plans.
Do let me hear from you – and please forward this newsletter to others who might be interested in how they can use MI!