What Should Be in a Library? An MI Expert Explains
January 17, 2019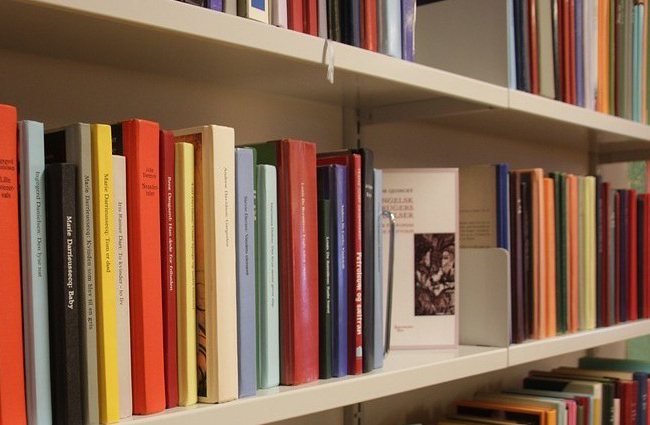 In August 2018, MI Expert Dr. Thomas R. Hoerr, Emeritus Head of School at New City School and Scholar In Residence, UMSL College of Education in St. Louis, MO, wrote an article about the questions that informed the design of the Learning Library at the New City School.
Below, the article is printed in full and prefaced by a brief comment from Dr. Howard Gardner.
If you are over fifty, it's likely that your education was based heavily on reading newspapers, articles, and books, and, for you, the word "library" connotes a collection of many written words and volumes.

Nowadays, of course, nearly everyone picks up information and skills through interactions with a variety of media. And even when one is reading words, it's likely that one is reading them on a screen, with the chief variable being the speed and the size of the machine.

Quite a few years ago, Tom Hoerr and his colleagues at the New City School in St. Louis began to rethink the meaning and the use of the school's library. The result is a learning environment which presents information in a variety of ways and which encourages young people to draw on, as appropriate, their several intellectual strengths or intelligences.

I am grateful to Tom Hoerr for writing a blog, in which he describes the School's experiences with the Learning Library. And I want to take this opportunity to thank Tom for his unstinting support of appropriate educational uses of MI Theory.

– Dr. Howard Gardner
A Learning Library
by Thomas R. Hoerr
What should be in a library? This is a more fun and complex question than it might appear!
Our initial response is probably a quick one, as we envision shelves and shelves of books, monitored by a stern librarian who can quiet the room simply by raising her eyebrows. Indeed, that is what most of us experienced. A library was a space filled with books and periodicals. It was a place where we went to do research, to look for books, or maybe it was just a quiet and calm setting where we could study or do our homework. Of course, the library was also a place where we could link up with our friends, but it was a pretty solemn place, so after that linking we would need to go elsewhere to talk and laugh.
That traditional library, whether in a school to be used by students or located in a neighborhood and open to the community, was designed to support the way that intelligence and learning have historically been viewed. From the advent of libraries thousands of years ago in ancient Egypt and Greece, when words were written on clay tablets or papyrus, until the 21st century, libraries have been designed for a singular, linguistic, view of intelligence. Dictionary.com says that a library is "a room, a set of rooms, or building where books may be read and borrowed."
Today, however, we understand a great deal more about learning than when libraries were first created. We know that each of us possess more than a single intelligence, so we recognize that the design of traditional libraries fails to support different ways of learning. Going beyond being a repository for books and magazines, what if we designed a library to support how people learn?
A learning library is designed to enable to use their multiple intelligences (MI) in acquiring information and solving problems. While a library can be linguistically-based, it should also offer people opportunities to use their logical-mathematical, spatial, musical, bodily-kinesthetic, naturalist, intrapersonal, and interpersonal intelligences in learning. Its art and furniture will be attractive and reflect that we each have a different intelligence profile. I know that creating this kind of library is possible and I have seen the positive impact that it can have on learners and learning because we created an MI library in the school that I led.
In 2006, the New City School in St. Louis, MO had been using MI for 20 years. We knew the power of enabling students to learn through all of their intelligences and we also saw how students' use of MI made their learning more engaging and fun in classrooms. Consequently, when we decided to build a new library, it was obvious that enabling students to use their MI should be integral in our design.
Our MI library opened in 2006. It has thousands of books and scores of periodicals, but that's just the beginning, because it also contains pathways for other intelligences. The library includes a space for creating art with white-board walls and tile floors, huge fish tanks and a bird-nesting area outside a second-floor window, a musical area with earphones, board-games and tables, games that require use of small muscles and coordination, chairs and comfortable spaces for alone-time, other chairs and desks to support collaboration, private rooms and meeting spaces, and small amphitheater for student presentations and performances. Designed by architect Kevin Kerwin, the space is remarkably inviting and attractive, and is also used for faculty, parent, and community meetings. An article from the School Library Journal that describes it can be found here.
It's worth noting that we intentionally did not put computers or technology in our library (other than those needed to monitor book usage). Our feeling was that kids' access to technology was pervasive, and we wanted to provide a space that allowed – required – them to use other intelligences. We have not regretted that decision.
While ours was the first MI library, I recently learned that MI was incorporated in the Jackie and Hal Spielman Children's Library section in a public library in Port Washington, WA. It is described here and in more detail here. The article notes that the library was designed to stimulate children's curiosity and desire to learn, and it is clear that they have succeeded in doing this. I know that this was also the case at New City School: Our library was everyone's favorite place and was always filled with learning and smiles!
When we conceive of a library that supports how people learn, we go far beyond collections of pages. How would you design a learning library?