Multiple Intelligences Newsletter, Vol 31, No 2
November 15, 2021
Greetings MI Fans!
This issue of Intelligence Connections focuses on the Spatial Intelligence
After reading Frames of Mind, my awareness of MI caused me to look more directly at the role that intelligences play in our lives. My focus on SEL and in identifying the Formative Five success skills comes directly from learning about and studying the personal intelligences. "Who you are is more important than what you know" reflects the importance of these intelligences.
I've also become particularly interested in how the spatial intelligence is used to tell stories. Certainly, long before humans developed the written word, visions and experiences were captured and shared through cave drawings. In Indonesia, for example, these spatial depictions date back 35,000 years: The world's oldest cave paintings.
The spatial intelligence was an integral tool for communicating as well as for solving problems. As an example of this, Howard Gardner noted that before the invention of a compass or sextant, sailors determined their location and routes across the ocean from the stars. And no consideration of the spatial intelligence in communication would be complete without considering the role of art in religion. For hundreds, maybe thousands, of years people learned about their God through drawings and sculptures. The world is a very different place today, but consider how Internet, television, and print commercials use the spatial intelligence to appeal to us.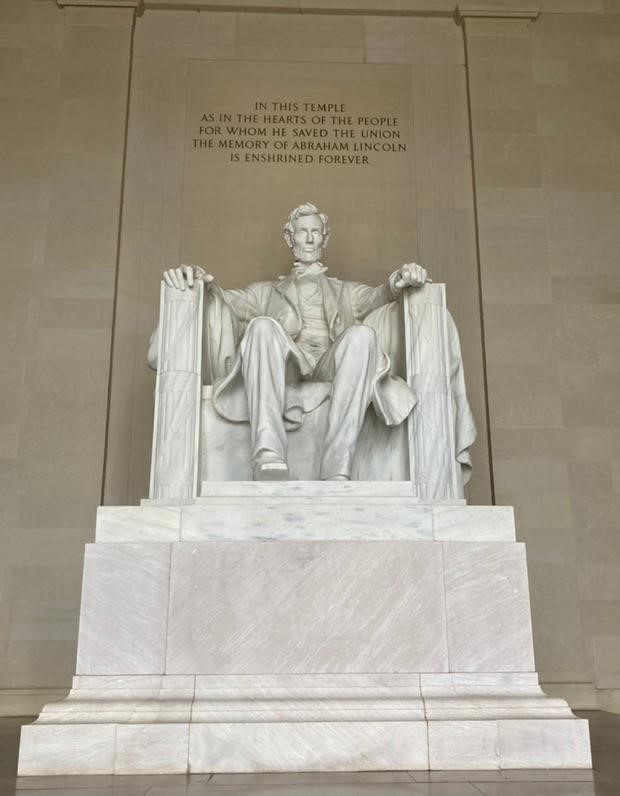 I recently experienced the power of the spatial intelligence when I spent a week in Washington, D.C., and enjoyed quite a few hours visiting monuments and museums. I went to the America's Presidents exhibit in Smithsonian's National Portrait Gallery, and Ford's Theater, and I visited the memorials to World War II, The Vietnam Veterans, Martin Luther King, Jr., Abraham Lincoln, and George Washington. I also spent an afternoon at the Smithsonian's new National Museum of African American History and Culture. Their size, setting, and stories varied, but these were all wonderful exhibits with powerful messages.
Gardner says that intelligences are used to solve problems that are valued in a culture; different kinds of problems require different kinds of intelligences. And the paintings, artifacts, and sculptures that I saw did that. They conveyed not just what happened at a time and in a culture, but the sorrow and pain, hope and triumph in visceral ways. Emotions sprang from the art and spatial displays!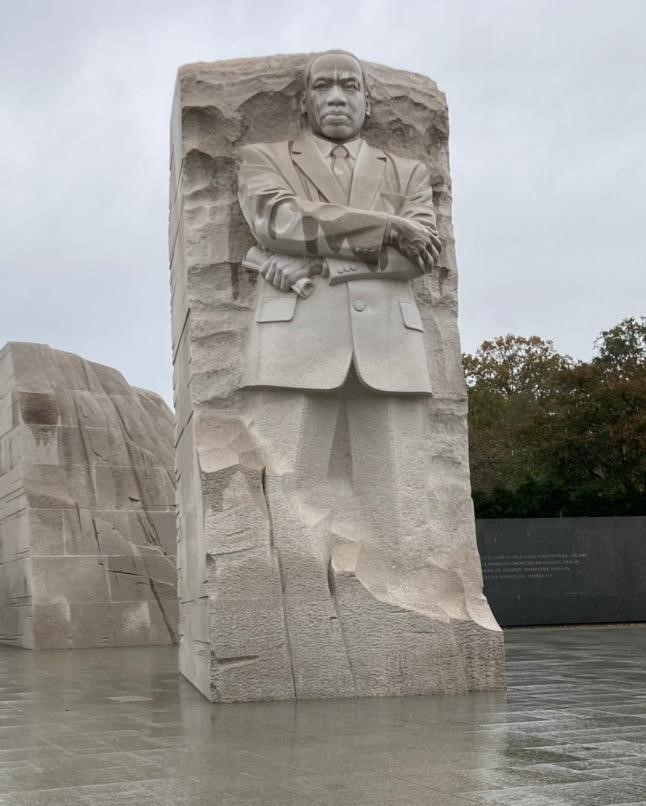 I'm a linguistic person (prolix, alas) and read the explanations and signs at each visit, but it was the images that captured and have stayed with me. I learned from what I read, but I was aware that the emotional power of the visits came from what I saw. I learned from them too.
There's an efficiency in image. I could see, perceive, and feel in a heartbeat what would have taken me a page or more of text to grasp. The emotions that I felt — from seeing a diagram depicting the inhuman conditions in a 1700's slave ship, of Harriett Tubman's shawl, of Franklin's Roosevelt's pensive countenance, from the majesty of the MLK memorial statue, and of the inscribed names of the 50,000+ U.S. service people who died in Viet Nam — remain with me today. The skilled architects, designers, artists, craftspeople, and exhibitors did their jobs very, very well. They used their spatial intelligence to solve the problem of "How do we convey what happened and how people felt?"
And I must add that the "Slavery and Freedom" exhibit that encompasses the bottom level of the National Museum of African American History and Culture is incredibly informative and evocative. If you get the opportunity, do visit!
Arundel High School
While in D.C., I visited a terrific nearby school, Arundel High School in Gambrills, MD. You won't see the words "multiple intelligences" on any wall, but you will see and feel great emphasis on developing students' interpersonal and intrapersonal intelligences, currently termed SEL (social emotional learning). Principal Gina Davenport and her faculty have embraced SEL and character in a big way. In 2017, Gina led the school in responding to a racial incident by creating a Global Citizenship Course, with the goal "of fostering values of acceptance and inclusion of all people," and it is now a requirement in every high school in the district: Global Citizenship. While at Arundel High, you can feel the care and supportive relationships as you walk the halls. You can learn a bit more about the school here: Arundel High
Spatial resources
Here's a wonderful piece on using the spatial intelligence in teaching, "Using Drawings for Formative Assessments," by Shveta Miler (from Edutopia)
In this article, Thomas Edsall makes the case that it is the spatial intelligence – along with linguistic and logical-mathematical – that is integral to problem-solving. Edsall notes that while schools aggressively work to cultivate talent in math and language, they do not do so for the spatial intelligence: "We Are Leaving 'Lost Einsteins' Behind," by Thomas Edsall
The case that the spatial intelligence enables us to see and perceive differently is made in a Harvard Business Review article, "How to Use Art to Reignite Your Team's Motivation."
Thanks for your interest in MI. Do you have any comments or questions? I'd love to hear from you!
TOM
Thomas R. Hoerr, PhD
facilitator of the ASCD Professional Interest Community
Scholar In Residence at UM-St. Louis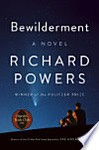 p.s. Finally, not spatial at all, but I have an amazing new novel to recommend, one that intertwines the naturalist, logical-mathematical, intrapersonal, and interpersonal intelligences. Bewilderment, by Richard Powers, is a phenomenal book, one that I know that you will find interesting and moving.
This network is sponsored by ASCD as part of their effort to improve the quality of education for all children.
ASCD PICs (Professional Interest Communities) are member-initiated groups designed to unite people around a common area of interest in the field of education. PICs allow participants to exchange ideas, share information, identify and solve problems, grow professionally, and establish collegial relationships.
You can learn about ASCD's networks, publications, conferences, workshops, and the dialogues sponsored by ASCD at www.ascd.org. You can also register for the free, daily ASCD SmartBrief.